Two days late. Ugh. Sorry.
In Hollywood and Famous People Land, you see beautiful women dating not-so-attractive men. Unattractive or aging rock stars tend to get beautiful, young women. Why is that? Part of the reason might be that these men's fame is more attractive than their appearances. But if there's true love involved, then appearances really do not matter.
Example: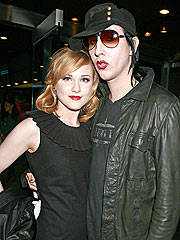 In fairy tales, there are beautiful women with ugly men whether the guys are beautiful or ugly on the inside.
Look at "Beauty and the Beast."
Belle (meaning "beautiful) ends up falling in love with the Beast's personality and inner beauty as they spend time together in his home. She's definitely not shallow. Of course, how she ends up in the situation is not so lovely. She becomes his prisoner because her father stole one of his roses. (Although he doesn't treat her badly at all.)
And you might say that it's Stockholm Syndrome. She falls in love with her captor. It's possible. There are cases in history where captives sympathize with their captors. Still, there's romance between them, and her love for him breaks the spell.
At the end of the fairy tale, he turns back into a handsome prince which may or may not please the readers. Two beautiful people living happily ever after.
In any case, this (previously) ugly guy has a beautiful inside. He has a heart or learns to have a heart.
Who doesn't have a heart?
This guy.
That's Bluebeard.
He's a wealthy man who has an ugly blue beard, and the local women are terrified of him. So how does he end up with several wives in his past? It must be how he got his most recent wife. He hosts a banquet which must've really showed off his wealth because the girl marries him. She may not be attracted to his looks, but cha-ching, she's set for life.
Or so she thinks.
So she overlooks his scary appearance, but she can't look over his bloody chamber with the bodies of his past wives. Ugly guy. Fine. Murderous guy. Not fine.
By the end of the story, her brothers kill the guy (because Bluebeard was going to kill her). Since Bluebeard had no heirs, the widow inherits all his wealth.
Here, Bluebeard is an ugly guy with an ugly inside. Heart? None, whatsoever.
Let's move on to this guy.
Or you may recognize him as this guy:
You're probably thinking, "Hey, Cupid isn't ugly. He's the son of Venus, the goddess of love." And you're right. He's not ugly. But when Psyche marries him, she doesn't know what he looks like. He's the only person who wants to marry her because a curse by his mother forces Psyche to be single. (His mother is jealous of the human girl's beauty). The reason he doesn't reveal his appearance to her is because he doesn't want her to know yet that he's Cupid. So he makes her promise not to see his appearance until a certain time.
Things are going so well until Psyche's jealous sisters interfere. What if he's a terrible serpent who will eat her and her unborn child? Curiosity kills the cat. She HAS to know if her husband is a monster. She lights a candle, sees him in bed, and falls in love with his appearance. Because she breaks her promise, Cupid has to go away.
Stuff and stuff happens (don't they always), but by the end, Cupid and Psyche get back together and Psyche becomes immortal. Two beautiful people living happily ever after.
(By the way, it was hard to find an appropriate image of "Cupid and Psyche" because they are naked in many of them!)
* * *
Not-so-beautiful guys like the Beast are still beautiful inside while other not-so-beautiful guys like Bluebeard are really just ugly guys. The beautiful women who marry them had no idea what they were getting into. Imprisoned, greedy, or cursed, they still chose to marry the guy. Something other than appearance attracted the women to these men. In the end, all the stories worked out for the women and they lived happily ever after. One man in particular, Bluebeard, doesn't live at all.